WELCOME HERE AT BEAC AEROBIK!
🥳💛We support your healthy and fit lifestyle during 2023 Autumn Season too!💪💛
Dear You 🙂
🎉Firstly try out BEAC classes free! Here you can find the event:
https://www.facebook.com/events/1106191610295825
From 2023 September you can join our classes at BUDA and PEST side too! 
You can get:
Free trial week between  11-15 September ( you can try each BEAC Aerbik classes)
8 places
Very friendly prices! ELTE Student pass from 19 500 HUF 
Motivational community trainings
Young trainers  and professional leading at the classes.
Colorful timetable (our every trainer speak english and we have english zumba class at Fridays!)
You can buy your pass at the BEAC shop from now:
https://www.beac.hu/shop?category=pass&sport 
You can take part in the classes  with valid Aerobics pass!
Please, join our FB-groups for the update information about the classes:
BEAC Aerobik- BUDA https://m.facebook.com/groups/981361633124206/?ref=share
BEAC Aerobik- PEST https://m.facebook.com/groups/233478925921809/?ref=share
GENERAL INFORMATION
TIMETABLE
Click here: https://www.beac.hu/aerobik/orarend/
PLACES
See all of the locations here: https://www.beac.hu/aerobik/orarend/helyszinek/ It is in Hungarian but you can see google map links there.
CLASSES
The Intervall aerobic– karate, aerobic and dance mix- all in one. It's a dynamic fitness for dynamic people. For everyone is advised regardless of gender and age.
The result is a fit and top body and the deepest happiness from your heart. The key is persistence!
In a Zumba class, elements of aerobics are combined with the basic steps of Latin dances (salsa, reggaeton, merengue, cumbia) in various, very easy coreographies. Zumba is recommended to everyone, including beginners. Try Zumba and join the party! ?
Bodyshaping
Good music, good feeling, like you're in a party! After a nice warm up and a cardio block, we strenghten the whole body. You only need a bottle of water and a little towel. Come on and get in shape!
Cardio body shape
This mixed workout type is an interval workout in which both cardio and strength exercises are available. The workout is really cool if you improve your stamina and your strength at the same time. Your own weighty exercises are guaranteed to be tested, but don't be scared, you will! With a smile!
Dynamic spine training
Get balanced in body and mind at this class! With spine training we strengthen muscles that got weaker becaus of seated work, and stretch the ones that shortened – gaining a more harmonic muscle structure. At the first time, even some of your muscles will be sore you didn't even know about. But after a few classes you will realize that your constant lower back pain is gone and you will feel better in your skin 🙂
Controll training – Pilates
Pilates is a physical fitness system developed by Joseph Pilates in Germany, more than 100 years ago and believe me or not, it was recommended for men. Pilates (Controll) puts emphasis on concentration, breathing, and developing a strong core; which is called "powerhouse", includes lower back, abdomen, hips and gluteus muscles. It is not just about training the motorical muscles, but the deep muscles as well – which are usually hidden until the Pilates class . With Pilates exercises the endurance of the muscles and joints will grow, posture will get better, moreover, thanks to the conditioning exercises the roll of fat will disappear. The class is built up gradually; contains stationary and yoga mat exercises as well, with different levels of difficulty. Pilates is highly recommended for everybody, regardless of gender and age!
Spine trainig is the preventive way to preserve the health of your spine. Nowadays we are doing a lot of seated work and spinetraining could be one of the best option to offset this. During the class the core-muscles get the focus. (we strengrthen, stretch this area), and mobilize the spine with diverse exercises.
Cardio+strengthening
This class is a mixture of cardio exercises and strengthening blocks. Very dynamic, intensive, but we promise-you will enjoy it! We work with bodyweight exercises and some equipments ( for example jumping rope, step stairs, etc).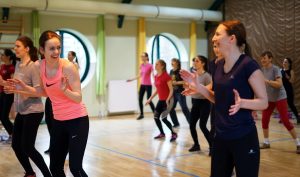 TRAINERS
Our instructors are young, professional very-very enthusiastic! They are mostly english-speaker, so be brave to ask them. Check the trainers here: https://www.beac.hu/aerobik/oktatok/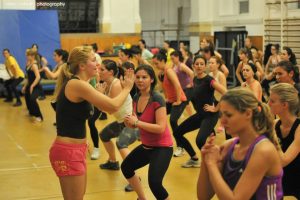 CONTACT
And the group absolutley for you: BEAC ELTE AEROBICS FOR YOU!
GENERAL INFORMATIONS
BEAC Aerobik has a diversified and colorful timetable in every semester: autumn, spring and summer as well.
How does it work with the semester ticket?
With your semester ticket, you can go to all the classes you see in the timetable unlimitedly. So, you can choose among 9 classes including aerobics, Zumba, pilates, spine training, and more!  (See the time table below.)
How much does it cost?
If you are ELTE student, you can buy a ticket for 19 500 – 25 500 Ft, for everyone else the price of the semester ticket is 22 500 – 28 500 Ft for the whole semester.
Where and when can I buy it?
In the BEAC office (Bogdánfy u. 10/B. 1st staircase 2nd floor) each weekdays 8:30-16:30.
Can I try the classes before I decide if I want to buy a ticket?
Yes, at ELTE Sports Week ( the irst week in September and in February) You can try all of the ELTE sport courses for free! We always have Facebook event with the details. (ELTE Sport Week or ELTe Sport7)
Which locations do you have trainings at?
See all of the locations here: https://www.beac.hu/aerobik/orarend/helyszinek/ It is in Hungarian but you can see google map links there.
What clothing is recommended?
Any comfortable sport clothes you prefer 🙂 However, most of the locations don't have AC, so expect it to be pretty warm inside. Don't forget to bring a towel and water with you too!
I still have questions! Where can I ask them?
If you have any question, please contact us: [email protected]