WELCOME ON THE ELTE AEROBIC WEBSITE! 
ELTE Aerobic has a diversified and colorful timetable in every semester: autumn, spring and summer as well.
How does it work with the semester ticket?
With your semester ticket, you can go to all the classes you see in the timetable unlimitedly. So, you can choose among 15 classes including aerobics, Zumba, yoga, spine training, and more! It's valid till the 31st of May. (See the time table below.)
How much does it cost?
If you are ELTE student, you can buy a ticket for 10 000 Ft, for everyone else the price of the semester ticket is 12 000 Ft for the whole semester.
Where and when can I buy it?
In the BEAC office (Bogdánfy u. 10/B. 1st staircase 2nd floor) each weekdays 8:30-16:30.
Can I try the classes before I decide if I want to buy a ticket?
Yes, ELTE Sports Week 11-15 February. You can try all of the ELTE sport courses for free! Check the facebook event: https://www.facebook.com/events/351437435680478/
Which locations do you have trainings at?
See all of the locations here: https://www.beac.hu/aerobik/orarend/helyszinek/ It is in Hungarian but you can see google map links there.
What clothing is recommended?
Any comfortable sport clothes you prefer 🙂 However, most of the locations don't have AC, so expect it to be pretty warm inside. Don't forget to bring a towel and water with you too!
I still have questions! Where can I ask them?
Join our facebook groups! If you already know which location you will prefer, pick the suitable ones:
BEAC: https://www.facebook.com/groups/2199037770112701/
Mérnök: https://www.facebook.com/groups/296785121067023
Bárczi: https://www.facebook.com/groups/227542031184353/
Erkel: https://www.facebook.com/groups/235208380503143/
Here, you can find a lot of information, motivational posts and you can also ask your questions if you want. Join and be part of the community!
Besides that, of course feel free to ask your trainers after trainings, or write an email to [email protected]
OUR SUMMER TIMETABLES: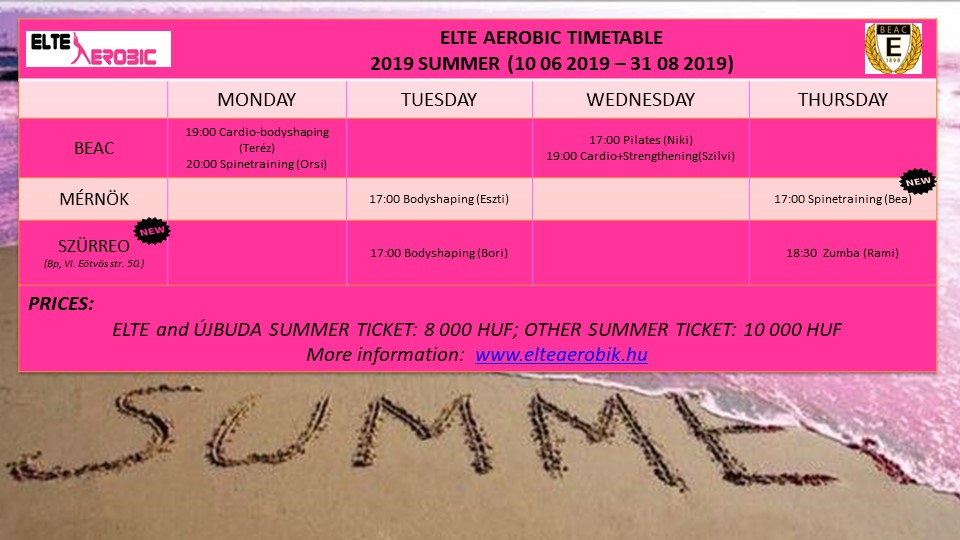 If you have any question, please contact us: [email protected]