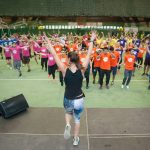 Our Timetable for the next semester is ready!
?
?
?Information about the new passes:
We have got new passes:
➡
PEST (Trefort, Apáczai and Radnóti)- 10.000 HUF (for ELTE students)
➡
BUDA (Mérnök, BEAC)-10.000 HUF (for (ELTE students)
➡
BUDAPEST (PEST+BUDA)- 14.000 (for ELTE students till the 20th of September, from the 21th of Sept it's 15.000HUF)
?
So only with one pass (BUDAPEST) you can visit all BEAC AEROBICS classes till the end of January, unlimitedly!!!
?
?You can find the timetable here: https://www.beac.hu/aerobik/orarend/
?Try out our claees for free at the Sport week (between 9-13 of September) : https://www.facebook.com/events/1372242436267538/
Where can you buy your pass?⬇
?At BUDA: BEAC (1117 Budapest Bogdánfy u. 10/b):
 Between September 9-13
Monday – Thursday: 9.00-20.00
Friday: 09.00-16.30
Between September 16-27
Monday: 9.00-19.00
Tuesday : 09.00-17.30
Wednesday, Thursday: 09.00-18.00
Friday: 09.00-16.30
From October you can buy passes according to the opening hours of BEAC office.
?At PEST: Questura (1053 Budapest Egyetem tér 5.):
Between 9 and 12 of September:
Monday 09.00-16.00
Tuesday 09.00-16.00
Wednesday 12.00-19.00
Thursday 09.00-16.00
Between 16 and 25 of September:
Monday 09.00-16.00
Tuesday  09.00-16.00
Wednesday 12.00-19.00
⁉If you have any question:
Join us at facebook too. We have little groups by the plac(es) where you visit the clases:
BEAC Aerobik <3 Aerobik a BEAC-on
BEAC Aerobik <3 Aerobik a Mérnökben
BEAC Aerobik <3 Edzések a Trefortban
BEAC Aerobik <3 Edzések az Apáczaiban
BEAC Aerobik <3 Edzések a Radnótiban  
And the group absolutley for you:
 https://www.facebook.com/groups/390180508226965/